3D milling / Prototyping
UniMek AS are highly skilled in producing molds and models.

We can program directly on the customer's 3D model using EdgeCam software. For the last several years, UniMek AS produced molds and models in plastic, aluminum, and steel for companies like BMS Steel.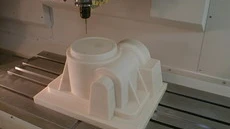 During construction, we work closely with Depro, who, in most cases, draws 3D models or modifies client models to adapt these to foundry technical requirements.
Today, UniMek AS has four machines that can work efficiently with models. This means quick feeding motions, linear scales in all axes, and controllers that are upgraded to calculate and perform motions much faster than standard controllers.
 
Machining of models happens mostly as unmanned running of the machines in the evening and nighttime. A program sequence can be anywhere from less than 1 hour, to 20 MB programs which can take 12 hours to complete.
Prototypes
UniMek AS produces prototypes in all materials. We adapt quickly to new requirements, and produce the prototype together with our customers. We simulate the initial part of production in our programming tool, which allows us to detect things that should been changed or ways to lower production costs, before starting production.